Uniforms
Research and Suttlers
What Type of Uniform?
The NESSAR Color Guard seeks to promote patriotism and educate the public about the American Revolution.
A big part of this is demonstrating how the patriots were uniformed and equipped.
There was a great variety of uniforms and clothing used in the American Revolution.  As such, we don't limit our Color Guard members to dress in the same uniform.
During engagements such as the Siege of Boston, the Battle of Saratoga, the Battle of Trenton, etc., the American patriots had a wide variety of clothing ranging from hunting frocks to lottery coats, from cavalry caps to artillery helmets, to the everyday 1770s civilian wardrobe, and everything in between!
Step #1: Decide what type of patriot you will be recreating
Will it be a Continental Army private? Or a country parson? Maybe a Militia Sergeant? The choice is up to you!
While the choice is yours, we encourage you to consider recreating your own Patriot Ancestor's uniform. It will help you better understand their experience in the Revolution and is a great way to honor your ancestor's service!
Step #2: Research!
There's quite a bit of information out there if you know where to look.
Scroll down to view some helpful online sources and books that we suggest to help you learn about the uniform you'll need.
Step #3: Source out your uniform
You have 2 different ways to assemble your uniform- you can order the items from sellers who specialize in period clothing, or you can get patterns and hire a tailor to make them for you.
Keep in mind that many sutlers have long waits before they can send you your order!
Check out the Suttlers section below to view a list of sellers of uniforms and patterns.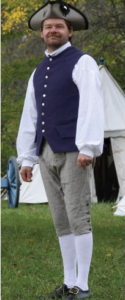 Regimental Uniform Starter Kit from Jas. Townsend & Son
Preferred uniform for Color Guard leaders and flag bearers. Regimental Coat ($134) and other accoutrements can be added later.
Total Minimum:                               $262.50
Militia Uniform Starter Kit from Jas. Townsend & Son
Desirable for armed Color Guardsmen to flank the flag bearers. Other accoutrements can be added later.
Total Minimum:                               $204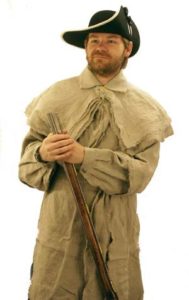 Researching your uniform
There is a substantial amount of information available on the uniforms used in the American Revolution.
Here are some good sources to research your Color Guard uniform.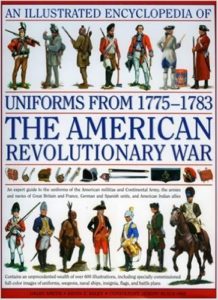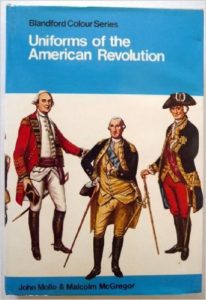 Online Sources
Some websites (for museums, battlefields, other Color Guard units, and re-enactors groups) contain good uniform information. Some have restrictions which should be taken with a grain of salt, and should only be considered as a helpful guide.
As the SAR Color Guard, we seek to give an accurate historical impression, but do not require hand-sewn uniforms or other such restrictions.
 Militia Uniforms
Continental Army Uniforms
Full Service Vendors – Uniforms and Accoutrements
These sutlers have pretty much everything you need for the Color Guard.
Full Service Vendors – Uniforms and Accoutrements
These sutlers have pretty much everything you need for the Color Guard.
Specialty Vendors – Accoutrements, Accessories, and some Clothing
The following sellers have limited items, usually focusing on accoutrements or specific types of clothing, such as hunting frocks or shoes.
Patterns & Fabrics
An inexpensive option is to create your uniform yourself. The following sutlers sell period patterns and fabrics to assist you.
]
NOTE:  Not all wares sold by sutlers are historically accurate or appropriate.  If accuracy and authenticity is desired, check with the sutler for documentation or with the Color Guard Captain before purchasing.
Please keep in mind we do not recommend one sutler over another. These sutlers are well-known to SAR color guards and re-enactors.
Sutlers provide either Off the Rack clothing or Tailored clothing.  Off the Rack (marked with [O]) is much faster, however the quality and fit of Tailored clothing (marked with [T]) can't be beat.
In 1876 there were many celebrations to commemorate the centennial of the signing of the Declaration of Independence on July 4, 1776. As part of this patriotic fervor, a group of men in the San Francisco, California, area who were descendants of patriots involved in the American Revolution, formed an organization called the Sons of
Revolutionary Sires. Their objective was to have a fraternal and civic society to salute those men and women who pledged their lives, fortunes and sacred honor to the battle for independence from Great Britain. They desired to keep alive their ancestors' story of patriotism and courage in the belief that it is a universal one of man's struggle against
tyranny — a story which would inspire and sustain succeeding generations when they would have to defend and extend our freedoms.
Out of the Sires grew the National Society of the Sons of the American Revolution, which was organized on April 30, 1889 — the 100th anniversary of the inauguration of George Washington as our nation's first President. We have used the acronym SAR to identify ourselves for over 100 years. The SAR was conceived as a fraternal and civic society composed of lineal descendants of the men who wintered at Valley Forge, signed the Declaration of Independence, fought in the battles of the American Revolution, served in the Continental Congress, or otherwise supported the cause of American Independence. The National Society was chartered by an Act of the United States Congress on June 9, 1906. The
charter was signed by President Theodore Roosevelt, who was a member of the SAR. The charter authorizes the granting of charters to societies of the various states and territories and authorizes the state societies to charter chapters within their borders. Federal Legislation that established a federal charter for the National Society SAR.
© 2016 DarrelDiviLayouts.